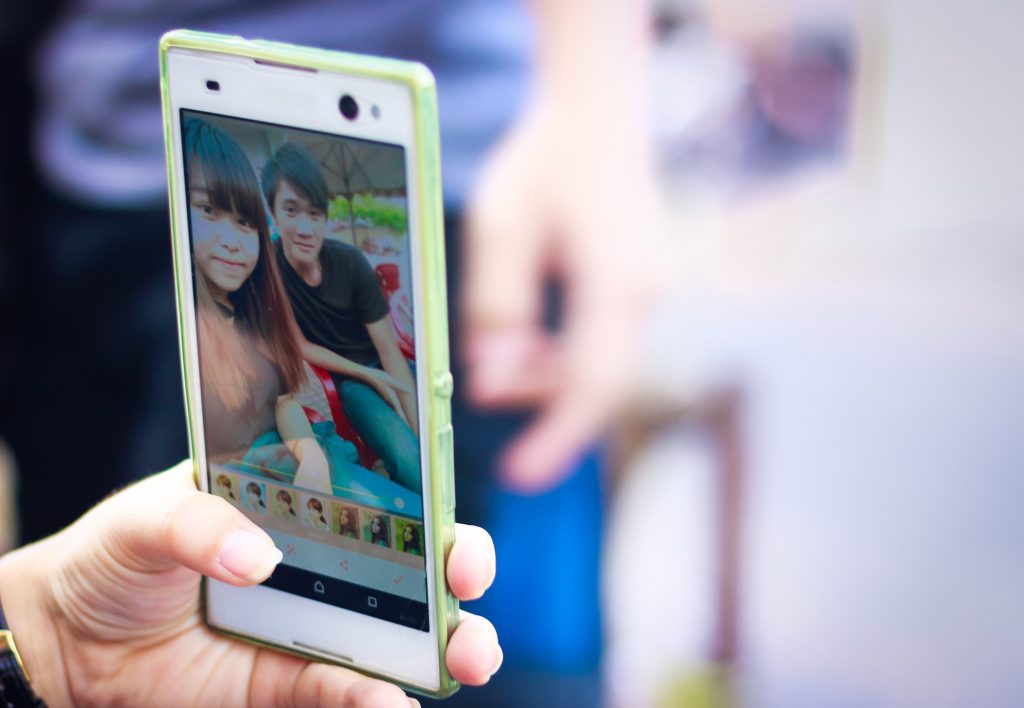 Over the course of 2018, Global Kids Online research has expanded with new studies in Albania, Canada, Montenegro, New Zealand and the Philippines. This includes, for the first time, a survey about teacher's use of the internet and digital technology for classroom teaching. Findings have been published from Brazil, Ghana and Uruguay, adding up to a total of over 15,000 children and 12,000 of their carers surveyed since late 2016. The new findings continue to demonstrate the importance of mobile phones for children's access to the internet and the continuing inequalities – amongst social groups and children of different ages. The Global Kids Online network is currently working on a new comparative report with a focus on children's digital skills including data from 11 countries, which will be launched in summer 2019. The Global Kids Online network has continued its work on tracking and improving research impact from national projects. The Global Kids Online Knowledge exchange and impact tools were launched at the beginning of 2018, which included case studies of how national partners have worked to maximise impact from their research.
Here is a summary of the work of the Global Kids Online network in 2018:
Start of new research: Albania, Canada, Montenegro, New Zealand and the Philippines
New research on children's internet use in Albania: Albania is one of the recent countries to join the Global Kids Online network in 2018. UNICEF Albania commenced research on children's online experiences as part of its strategic intervention to tackle online child sexual exploitation, supported by the Global Partnership to End Violence against Children. The research comprises a national household survey with 1,000 children and young people and one of their caregivers, as well as a qualitative component exploring digital experiences in the lives of children without parental care and children with disabilities.
Global Kids Online launching in Canada with a focus on privacy: The eQuality project, in partnership with UNICEF Canada and the Office of the Privacy Commissioner of Ontario (IPC), brought Global Kids Online to Canada in 2018 with the launch of the Canadian Kids Online project, led by Professor Valerie Steeves at University of Ottawa. The new study focuses on the online experiences of Canadian youth, as well as the ways in which their knowledge of online privacy issues affects their experiences in the online environment.
Research on teachers' internet use in Montenegro: Global Kids Online research conducted with children and parents in Montenegro in 2016 indicated that schools need to become leaders in the process of preparing the future digital citizens. UNICEF Montenegro, in partnership with the Ministry of Education and Ipsos, piloted a survey on teachers' internet use, skills, and practices which will help to develop digital literacy education in Montenegrin schools.
Global Kids Online in New Zealand: Netsafe is working in partnership with UNICEF to bring the Global Kids Online methodology to New Zealand. Netsafe has a statutory role under the Harmful Digital Communications Act (HDCA) to resolve complaints from victims and provide educational content and services. Participation in Global Kids Online aims to support this role and to contribute to Netsafe's efforts to maximise digital opportunities for New Zealand's internet users and prevent online harm.
A national study in the Philippines: UNICEF Philippines undertook a national Global Kids Online study in collaboration with researchers at De La Salle University. This is a follow up from their pilot study in 2016 conducted in collaboration with the University of the Philippines, Manila. The research demonstrated the efforts needed to ensure the training, safety and ongoing support of the field researchers, as well as the challenges of gaining access to hard to reach populations and ensuring the wellbeing of child respondents. The team is now working on a findings report.
Launch of new findings: Brazil, Ghana and Uruguay
Brazilian findings: more children read online news: The Regional Centre for Studies on the Development of the Information Society (Cetic.br) launched the results of the sixth ICT Kids Online Brazil survey. The results show that more children are now online (85% of children aged 9 to 17 years), they mostly use a mobile phone to access the internet (93%) and receive more parental guidance on safe internet use compared to earlier years. The new survey explores for the first time children's civic participation discovering that over 1 in 10 children use the internet to discuss politics and problems in their city or country.
Children and the internet: new findings from Ghana: UNICEF Ghana launched its new report on children's experiences online as part of the National Cyber Security Month Campaign by the First Lady of Ghana. Key findings suggest that the internet offers important learning, socialising, and entertainment opportunities for children, but important gaps remain related to online access, digital skills, and parental support. The study was conducted in collaboration with the Ministry of Communications, the Ministry of Interior, and the Ministry for Gender, Children and Social Protection.
Kids Online Uruguay: key findings from the new study: New findings from Global Kids Online in Uruguay were launched by UNICEF, Plan Ceibal, AGESIC, Universidad Católica del Uruguay, and UNESCO. The findings demonstrate that Uruguay has witnessed significant advances in the spread of internet connectivity – all surveyed children had used the internet and 8 out of 10 go online via a mobile phone.
Working to maximise impact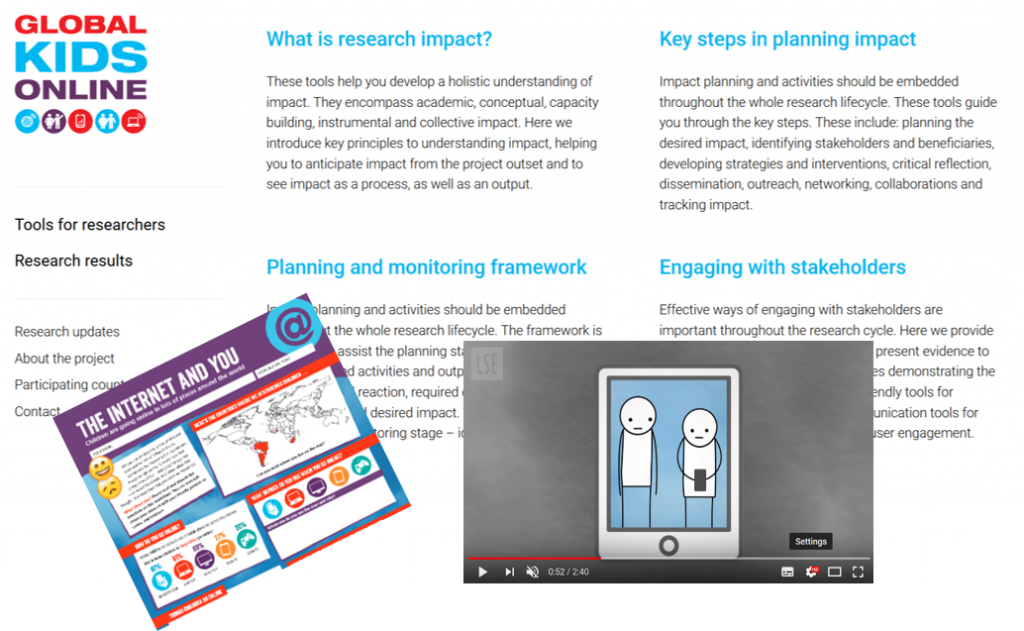 How can using our research make an impact?: At the beginning of 2018 Global Kids Online launched its new Knowledge exchange and impact tools to guide and support researchers in planning effective research impact strategies and activities. These tools are the result of collaboration with country partners and experts over the past 18 months in a joint effort to identify pathways to impact that will help partners leverage research evidence for positive change.
Developing an impact case study of Global Kids Online: UNICEF Innocenti and LSE commissioned an independently verified impact case study of the Global Kids Online network, aiming to explore and validate early emerging impact claims. Commencing in November 2018, the study draws on in-depth qualitative evidence from interviews and review of documentation from four research sites in Argentina, Bulgaria, Ghana and Uruguay, as well as a review of the activities of the whole network.
UNICEF Argentina's work on promoting digital citizenship: Based on the research findings from the recent Global Kids Online study, UNICEF Argentina has been working with a range of stakeholders to promote children's digital citizenship and literacy as part of its knowledge exchange and impact efforts. The team has been trying to introduce a more comprehensive approach to supporting children's internet use which focuses on children's rights and digital citizenship, online opportunities, digital skills, and online protection.
Making the internet safer for children: the global evidence: To harness the positive potential of children's internet use and to limit the harm, it is vital to understand how children are developing digital skills and citizenship and to use the evidence to inform future policy and practice in a way that also includes the voices of children and parents. Using cross-comparative findings, Global Kids Online contributed to the Safer Internet Day campaign by advocating for the pressing need to generate high-quality evidence on children's online experiences and their rights in a digital age.
---
Further resources
Latest research findings from Global Kids Online
Research toolkit – with survey, focus group and impact instruments
You can sign up to receive the latest research news from Global Kids Online by email. Please forward this message to anyone you think may be interested.
Post author: Mariya Stoilova