How do children use the internet? How do they access it? Does it present risks or opportunities for them, or both? What do parents think of their children's online activities? Do they support it as an opportunity for learning? Or do they see it as harmful?
We asked 913 children between nine and seventeen years, from three provinces in South Africa, and from different levels of household incomes, these questions and more. To compare their answers and find out more about the parents' internet use, we asked 532 parents of the same children the same questions. Finally, we dug deeper into the children and parents' answers with focus group discussions with 49 children and 20 of their parents.
The report contains some of the things we found – some surprising, some not. It also makes some recommendations for opportunities for parents, teachers and schools, policy makers and reserachers, and mobile companies.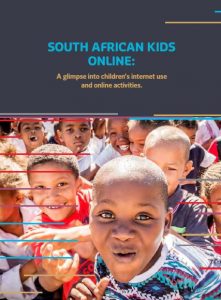 Further materials from this study:
South African Kids Online: A glimpse into children's internet use and online activities
South African Kids Online Pamphlet
South Africa: using evidence to influence policy
Working on knowledge exchange and impact
Recognising online hurtful behaviour among peers
Other publications by the Centre for Justice and Crime Prevention (CJCP)
---
Research team
Patrick Burton, Executive Director, Centre for Justice and Crime Prevention
Lezanne Leoschut, Research director, Centre for Justice and Crime Prevention
Joanne Phyfer, Researcher, Centre for Justice and Crime Prevention
---
All resources developed by Global Kids Online, including this report, are available under a Creative Commons licence (CC BY-NC) and can be used only for non-commercial purposes and with attribution.
The preferred citation for this report is:
Phyfer, J., Burton, P. & Leoschut, L. (2016). Global Kids Online South Africa: Barriers, opportunities
and risks. A glimpse into South African children's internet use and online activities. Technical Report. Cape Town: Centre for Justice and Crime Prevention. Available from: www.globalkidsonline.net/south-africa