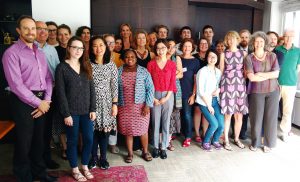 The knowledge exchange and impact meeting brought together over 30 academics, researchers, and UNICEF staff from 12 different countries, including Argentina, Brazil, Bulgaria, Chile, China, Ghana, Montenegro, the Philippines, Serbia, South Africa, the UK, and Uruguay. The gathering offered an opportunity to hear from the members of the Global Kids Online network about their strategies for effective engagement with stakeholders and the challenges they face in their research dissemination and impact efforts.
A selection of guest speakers offered additional insights into knowledge exchange and impact approaches. Isabel Vogel, an independent consultant, introduced the ideas and principles behind the Theory of Change approach – a critical approach aimed to facilitate change by applying outcome-based planning to the design, implementation, and evaluation of initiatives. Isabel Vogel outlined how this technique can be used to support the social and policy changes that Global Kids Online is trying to achieve nationally and internationally. Rachel Middlemass, Research Impact Manager at the LSE Research Division introduced the LSE approach to measuring knowledge exchange and impact and presented the toolkit developed by her team. Kerry Albright, Chief of Knowledge Management and Research Facilitation at UNICEF Office of Research – Innocenti discussed the work of UNICEF on creating an impact matrix in collaboration with the Global Kids Online team from the LSE and how it can be used by the network members to capture their impact efforts.
Practical workshops were held allowing the participants to discuss desired research outcomes and how to achieve impact, applying in practice the frameworks and approaches presented by the guest speakers. During the first session, the researchers collaborated on outlining the logical sequence of their key research initiatives – from inception to outcomes – and on examining the similarities and differences between the countries' approaches. The teams also reflected on the reasons behind any possible gaps between desired and achieved outcomes and explored the opportunities for regional strategic collaboration. The second session focused on identifying the key actors and stakeholders and the type of engagement that would be most suitable for each group, as well as on planning pathways towards achieving both engagement and impact.
---
Further resources:
For more information about the knowledge exchange and impact efforts of Global Kids Online see: Maximising children's online opportunities and minimising risks (MOMRO)
Global Kids Online Impact tools
UNICEF Argentina's work on promoting digital citizenship
Impact work in Bulgaria: using evidence to promote digital literacy
South Africa: using evidence to influence policy
Comparative research synthesis
You can sign up to receive the latest research news from Global Kids Online by email. Please forward this message to anyone you think may be interested.
Post authors: Mariya Stoilova and Ssu-Han Yu