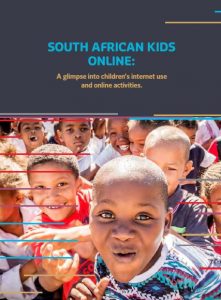 The Centre for Justice and Crime Prevention (CJCP) carried out a survey of 913 children and 532 parents in February and March, 2016 as part of the Global Kids Online project. This was the first comprehensive research effort in South Africa exploring children's use of the internet and the team found that it could inform much of the work around policy and legislation, as well as the general public discourse on children's risks and opportunities.
The Centre chose three key priority areas in their knowledge exchange and impact strategy. Firstly, they focused on informing the direction that government takes with regards to children's rights online. The second area was awareness raising  amongst policy-makers, children, and the wider public. Finally, to create a better environment for policy changes, CJCP prioritised also informing the public discourse on risks, opportunities, children's online activities, and rights in the digital age, especially in times of heightened media attention to these topics. There were a range of steps and activities undertaken to support the priority areas:
As different stakeholders were responsible for different facets of children online issues, the team

identified specific stakeholders

it wanted to influence by looking at: departments, parliamentary committees, Chapter 9 institutions (a group of organisations established in terms of Chapter 9 of the South African Constitution to guard democracy), international NGOs, industry, service providers, the media, civil society, schools and parents (Burton, 2017).
Methodological consultations: the team consulted a group of experts, national government departments (incl. Department of Telecommunications and Postal Services and the Department of Basic Education) and stakeholders (incl. UNICEF and Save the Children) to inform the design of the research, data collection tools, and data analysis as well as to align with national data priorities. While time constraints did not allow for the formulation of a steering committee or reference group prior to commencement of the project, this would have been the ideal approach. Rather, consultations took place informally.
The team disseminated widely the findings to expert audiences (seminars, conferences, expert meetings, peer-reviewed journal articles), policy-makers (discussions and consultations), and the general public (online and via the media). They also organised an event to launch the findings attended by a Convention on the Rights of the Child (CRC) commissioner, child rights activists, and representatives from government. Bringing together a diverse range of stakeholders turned out to facilitate a high level of buy-in and led to numerous invitations to present the pilot study at other occasions.
Legal and policy engagement: written submissions to inform the revision of the Film and Publications Amendment Bill (2015); presentations to the Parliamentary Portfolio Committee on Communications to discuss the Film and Publications Amendment Bill (2015); using findings to consult the Department of Telecommunications and Postal Services on their research strategy and priorities planning; providing material on cyber-bullying for the National Cybersecurity Hub website hosted by the DTPS's Directorate for Cybersecurity Operations.
Training of children, educators, and practitioners: CJCP has conducted educational sessions with children and school staff from local primary and secondary schools on safer internet use and digital citizenship. They have also been collaborating with external service providers and facilitating training sessions for qualified social workers and other psycho -social practitioners.
Creating a targeted parenting intervention: CJCP has integrated key messaging for parenting into the delivery of a holistic parenting and families intervention as part of a five year child and youth resilience programme. In addition, the CJCP has made all its material available under creative commons on its online platforms.

Even though the knowledge exchange and impact work has achieved some success, there have been challenges as well. Institutional ownership is very limited, as the government has many other priorities which means that children's rights online have not yet received enough attention and having an impact on policy has been slow (Burton, 2017). Attempts to engage the industry constituted one of the biggest challenges throughout the impact process. With some exceptions, industry unfortunately lacked time or capacity to provide much needed support for the research or the research uptake.
---
Further resources
South African Kids Online: A glimpse into children's internet use and online activities
South African Kids Online Pamphlet
Other publications by the Centre for Justice and Crime Prevention (CJCP)
References
Phyfer, J., Burton, P. & Leoschut, L. (2016). Global Kids Online South Africa: Barriers, opportunities and risks. A glimpse into South African children's internet use and online activities. Technical Report. Cape Town: Centre for Justice and Crime Prevention. Available from: www.globalkidsonline.net/south-africa
Burton, P. (2017) Engaging with stakeholders: The experience of South Africa. In Livingstone et al. Global Kids Online: Knowledge Exchange and Impact Meeting Report. London: London School of Economics and Political Science. http://globalkidsonline.net/working-on-knowledge-exchange-and-impact/
Post authors: Patrick Burton and Mariya Stoilova