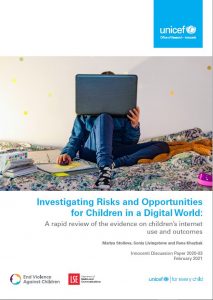 We know that the digital environment exposes children to new ideas and offers them more diverse sources of information. It can expand their opportunities, reduce inequalities and contribute to realizing their rights. We also know that when children seek information online and want to learn, they risk being exposed to inappropriate or potentially harmful content. But, when it comes to determining the long-term effects of internet use and online experiences on children's well-being, mental health or resilience, the best we can do is make an educated guess. Does children's internet use contribute positively to their outcomes? Under what conditions does it amplify the risk of harm and potentially undermine their well-being? Most interestingly, can we identify the pathways to harm and vulnerability, bearing in mind the protective factors that build resilience in children?
Today, on Safer Internet Day 2021, UNICEF and LSE are launching our new rapid evidence review that addresses these questions, using the Global Kids Online research framework. The review was funded by the End Violence Fund as part of the multi-country project Disrupting Harm, a US$6,6m research effort where UNICEF has implemented Global Kids Online surveys in 14 countries in Eastern and Southern Africa and Southeast Asia, as part of other research activities conducted in collaboration with ECPAT International and INTERPOL.
Our new report shows that online risks are highly unequal in their effects, being more harmful for children who are already disadvantaged offline. That makes it imperative that adults seeking to support children online make special provision for children who are vulnerable or discriminated against in their everyday lives – Sonia Livingstone, London School of Economics and Political Science.
The review summarises research published since 2016 about children's experiences and outcomes relating to the internet and digital technologies, revealing these key findings:
What do we know about pathways to harm and vulnerability?
Children who are vulnerable offline are also more likely to be vulnerable online.

They are more exposed to online risk and, in turn, find themselves more likely to experience harm and less able to find support. For example, children with lower levels of happiness or life satisfaction are more likely to be exposed to negative online content, cyber-hate, discrimination or violent extremism. Relatedly, children who experience violence, neglect, physical punishment, psychological victimization, parental conflict, sexual harassment or offline solicitation are more likely to also be exposed to sexual solicitation online. 
Not only are some children more vulnerable than others, but who is vulnerable varies with the specific type of online risk. For example, older teenagers, LGBTQI children and those from lower socioeconomic backgrounds are more likely to engage in sexting behaviour and be victims of sextortion. Also, girls are more likely to be victims of online sexual solicitation, coercive sexting and cyber-dating violence. They are also more likely to receive and be asked for sexts from strangers, to have negative sexting experiences, and to be more negatively impacted by cyber-dating violence.
Children who experience one kind of online risk are also more likely to experience others. For example, online sexual solicitation is associated with exposure to online pornography, posting personal information or pictures online, having contact with unknown people on social media, voluntary sexting, and video chatting with strangers. Cyber-bullying victimization and perpetration is associated with children's higher exposure to negative online content and to cyber-dating violence. But experiencing a risk does not mean a child is harmed; it could even be beneficial for creating resilience. More evidence is needed on which risks are more harmful than others and what society can do to prevent these.
Importantly too, there is a connection between offending and victimization. Notably, both the victims and perpetrators of cyber-bullying tend to report weaker offline social ties and support from friends and family, higher rates of loneliness, being less liked at school, and lower psychological well-being. Perpetrators of cyber-bullying and sextortion are also more likely to be victims than non-perpetrators. Further, online and offline perpetration and victimization are highly correlated. This suggests that when children become the targets of hurtful behaviour, some hit back, creating a snowball effect of harmful conduct.
While this review usefully summarizes existing evidence, research on how children's vulnerabilities offline may expose them to harm online is still limited. We need to know more about why, where and how this happens, and what we can do to prevent it. Hopefully our ongoing Disrupting Harm project will go further in responding to these questions – Daniel Kardefelt-Winther, UNICEF Office of Research – Innocenti.
What do we know about protective factors?
Protective factors can reduce exposure to online risks and influence how children engage with the online environment. However, there is limited evidence on what these protective factors are, especially in the offline environment, and how they protect children from negative online experiences and harm.
Some exploratory studies suggest that social support and children's positive relationships with people around them act as protective factors. Children who lack such social resources face a double disadvantage: they are more likely to experience online risks and are less likely to seek help.
As for risk factors, protective factors also differ according to the nature of the risk, although there is more to be understood in this regard. For example, a positive relationship with parents, parental monitoring of children's activities, teacher care, enforced school rules, higher self-efficacy, self-confidence, and resilience all act as protective factors for cyber-bullying. For cyber-dating violence, parental monitoring and emotional bonding can be a protective factor.
More generally, encouragement and support from parents, teachers and peers help children become more confident internet users. This is especially true for younger children. Parents can reduce risks by imposing restrictions, such as limiting time spent online, but this can impede children's skills and opportunities, so enabling mediation where children are supported and encouraged as they go online, is often preferable.
Children who are concerned about their privacy and aware of online risks engage more in personal safety strategies. Also, privacy discussions with parents and teachers positively affect children's privacy behaviour.
Protecting children online is more effective when it is combined with supportive parenting more generally. For example, emerging evidence about cyber-bullying shows that children's quality of relationship with their parents and general offline supervision of their daily activities reduces children's risk of cyber-bullying, more so than monitoring their online activities specifically.
In the rapidly evolving digital world children are exposed to the promise and pitfalls of technology, both of which intensified during the global pandemic. So did digital divides and inequalities. In designing and regulating the online environment, we need provide children and their families with the much need support that respects their diverse circumstances, builds confidence and competence, and inspires new possibilities.
Please read the full report for our review of the evidence on children's online risks, opportunities and pathways to harm, which also identifies research gaps and future priorities. Many of these gaps are currently being addressed by projects such as Disrupting Harm, and the Global Kids Online and EU Kids Online research networks, as well as partner projects such as Youth Skills (ySKILLS) and CO:RE – Children Online Research and Evidence.
Post authors: Mariya Stoilova and Sonia Livingstone