It is timely that the UN Committee on the Rights of the Child has just adopted its General Comment 25 on the digital environment. This asserts that rights apply online as offline, and sets out the actions expected of governments and other actors with the power to make a difference to children's lives.
The #CovidUnder19 initiative, led by Terre des Hommes in collaboration with the UN and around 30 organisations, as well as children and young people, has sought to understand what children are experiencing due to COVID-19. #CovidUnder19 is one of several key global projects working with or led by children and young people, as we discussed in a recent LSE webinar.
A total of 26,258 children and young people aged 8 to 17 from 137 countries participated in the #CovidUnder19 survey, designed and analysed by Centre for Children's Rights at Queen's University, Belfast, together with children and young people and other partners. The full survey results are here.
In contributing to this initiative, along with many other child rights organizations and NGOs around the world, Global Kids Online focused on the role of the internet and other digital technologies in children's lives under COVID19, building on our survey toolkit.
Our new research brief links the survey findings to children's rights. Highlights include:
Access: there were big regional differences in who could access the internet often or very often – 20% in Africa, 35% in Asia-Pacific, 61% in Latin America and the Caribbean, 77% in Western Europe and other, and 86% in Eastern Europe.
Information: during Covid-19, children have relied on social media to keep in touch with family and friends using WhatsApp (75%), Facebook (41%), Instagram (33%), Snapchat (12%), Text (10%), none of these or other means were about (10%).
Education: children with no access to the internet were much more likely (63%) to say that they were more confident that they would get the grades they deserved before the pandemic, compared to children with regular internet access (38%).
Protection: while most children reported feeling safer (14%) or as safe (70%) online during Coronavirus, 17% reported feeling less safe.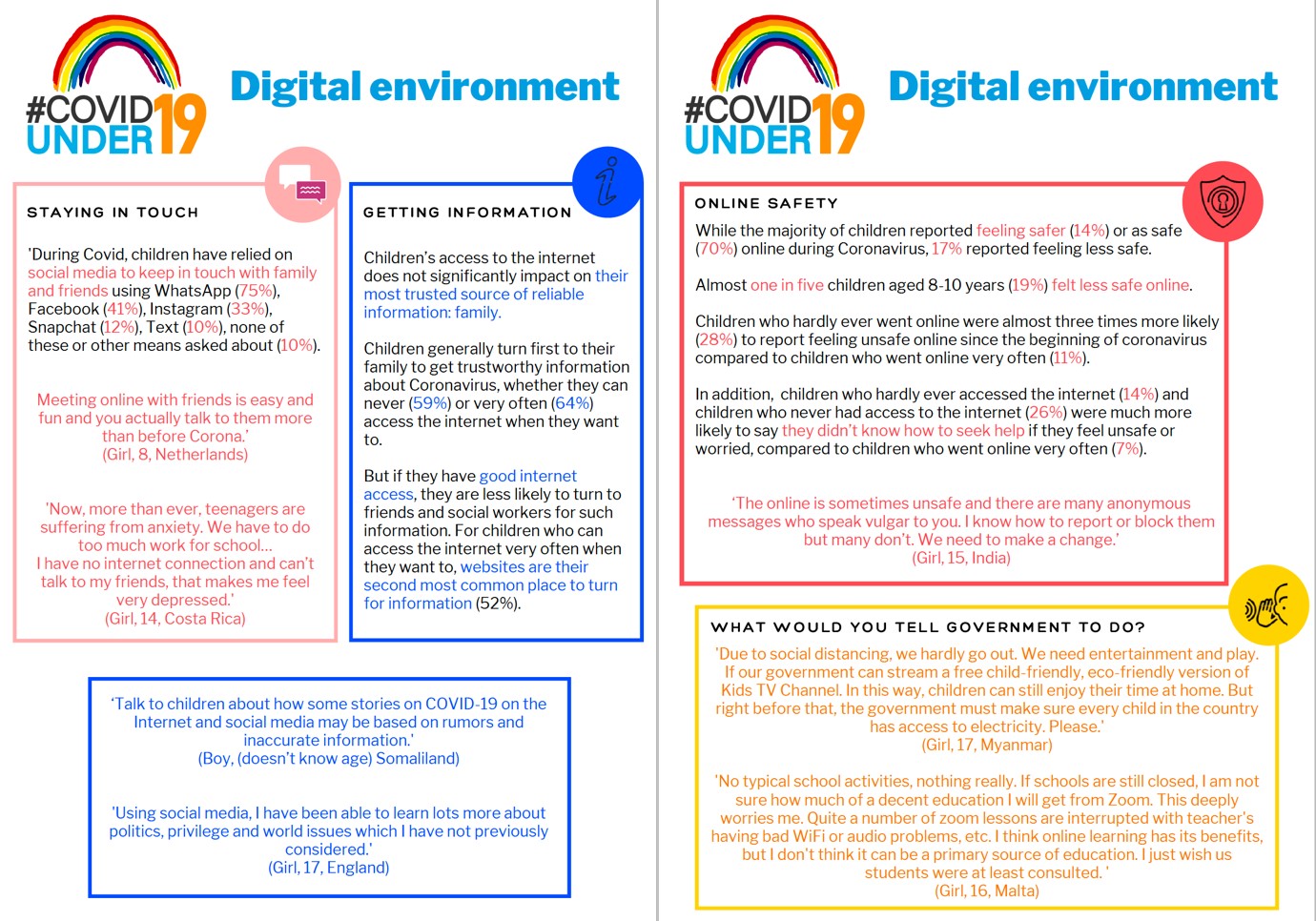 The aim of the #CovidUnder19 initiative is not simply to produce findings regarding children and their experience but rather to make the link from research to consultation, by listening to children and young people's concerns and calls for change from governments. In April 2021 young people discussed their rights in a digital world at the Global Youth Summit which you can watch here.
Post author: Prof Sonia Livingstone