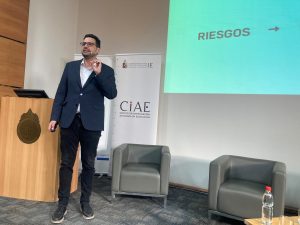 25th April 2023 saw the launch of the new findings from Kids Online Chile, providing a timely update on their 2016/7 survey of children's internet use and online activities. I was delighted to keynote at the launch, joining the report authors Patricio Cabello (CIAE IE UChile) and Magdalena Claro (CEPPE UC) along with the Ministry of Education, CEPAL, UNICEF Chile, and colleagues from Latin America Kids Online among other researchers, educators, policymakers and stakeholders.
What's new?
"The pandemic forced digital access in homes, because children had to attend classes, even in pre-school education. It must be remembered that, at the beginning of the pandemic, almost half of the households with children aged 9-17 had internet access only through a cell phone within the home. So the cell phone becomes a device that allows you to participate in many activities and that cannot be seen only in terms of concerns. It enables social processes that we have to be attentive to," observed Patricio Cabello.
Indeed, in a country where many children have not returned to school since the pandemic, internet access remains a crucial resource. Even though Latin America has invested considerably in digital infrastructure to support children's education, inequalities remain too large. In Chile, the lowest socioeconomic group has closed the gap with their more privileged counterparts in having access to a computer or notebook to study at home, but they are still 22% behind (only 65% of children in low income vs 87% in high income homes have this). Moreover, they also get to use the internet much less at school and, unsurprisingly, their digital skills are less developed (a finding echoed in research across the globe).
The findings also reveal young people's enthusiasm for online activities, including for informal learning – for example, 68% of 9-17 year olds seek information on topics that interest them and 61% watch videos or tutorials where they are taught to do things they like. As Magdalena Claro concluded,
"These informal learning and study practices reveal, on the one hand, new ways of learning and, on the other, ways to complement the contents seen in class, important to consider when designing significant pedagogical strategies for the new generations of students." (Magdalena Claro)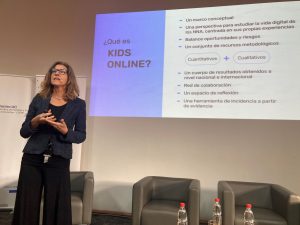 Regarding the role of parents, comparing the new and previous surveys, we see both greater levels of parental support, and a shift from restrictive to enabling forms of parental mediation. This is greatly needed, both to build trust between child and parent and because Kids Online Chile reports more children saying that something online upset them in the past year (54% said this in 2022, 13% more than in 2016). This is much higher than we see in Europe, where the latest finding from EU Kids Online was 25% of 9-16 year olds (albeit that this too was a substantial rise since 2010).
It is therefore welcome news that the UNICEF Representative in Chile, Paolo Mefalopulos, confirmed that this research will inform "policies so that the decisions made in these areas are more pertinent and effective."
Further information
Read about the launch (in Spanish), including comments from the Ministry of Education and UNICEF on how they will build on the findings, extending Global Kids Online's track record on research impact.
Sonia Livingstone's keynote presentation on "What have we learned"
"Childhood and adolescence in the digital age": a comparative report of the Kids Online surveys in Brazil, Chile, Costa Rica and Uruguay
The full report will be published soon (watch this space)
Post author: Sonia Livingstone