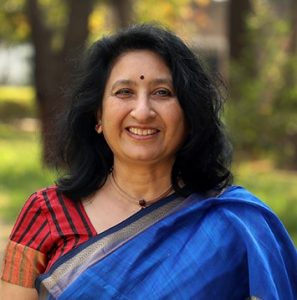 Manisha Pathak-Shelat is a Professor of Communication, Digital Platforms and Strategies and the Chairperson of the Centre for Development Management and Communication (CDMC), at MICA in Ahmedabad (India). She has taught and worked as a media consultant/trainer and researcher in India, Thailand, and the USA. She has a PhD in Mass Communication from the University of Wisconsin-Madison, USA and in Education from the Maharaja Sayajirao University of Baroda, India.
Manisha's research interests focus on young people's media cultures, use of new media, civic engagement, transcultural citizenship, media literacy and gender. Broadly, her research over the years has addressed the question of how ordinary individuals engage with media to experience agency, to explore identities, and to participate in social change. Her research projects include a study on online civic engagement and transcultural citizenship, an ongoing inquiry into digital youth cultures in India and a multi-country youth media participation project funded by the Academy of Finland.
Prof Pathak-Shelat has received a number of awards and fellowships including The Soviet Land Nehru Award, Shastri Indo-Canadian Faculty Research Award, The Salzburg Seminar Fellowship and TATA Fellowship for the Study of Contemporary India. Currently, she serves as the Chair for the Media Education Research section of The International Association for Media and Communication Research (IAMCR). She is also the editor of the Journal of Creative Communications published by MICA for Sage. Manisha has shared her research on several international platforms and her work has been published in the Journal of Youth Studies, the Journal of Adolescent and Adult Literacy, New Media & Society, the Journal of Children and Media, Communicar, Media Asia, and as chapters in several books.
More about Prof Manisha Pathak-Shelat