The launch of the new ITU Child Online Protection guidelines was described as an important milestone in international efforts to end violence against children by  Her Majesty Queen Silvia of Sweden in the opening remarks on "Why we must act to protect children online". At the launch, Dr Najat Maalla M'jid, United Nations Special Representative of the Secretary-General on Violence Against Children said:
A worldwide and cross-border problem requires a multi-stakeholder, multi-sectoral and child-rights centered approach that brings all key actors, including children, together to ensure a stronger and proactive child protection online.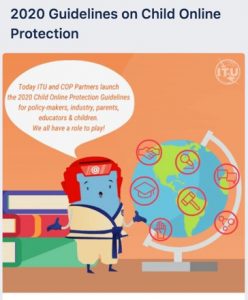 The 2020 ITU Guidelines are tailored to four key audiences: children, parents and educators, industry and policymakers. For each of these audiences, the guidelines are meant to act as a blueprint which can be adapted and used in a way that is consistent with national or local customs and laws and address issues that might affect all children and young people under the age of 18.
This includes contributions from children – see especially the storybook, workbook and microsite created for and by children at https://www.itu-cop-guidelines.com/children along with Global Kids Online advisor Amanda Third.
The ITU guidelines were co-authored by ITU and a working group of contributing authors from leading institutions active in the ICT sector, as well as in child (online) protection issues.
Global Kids Online participated in this process, contributing especially to the evidence base that underpinned the work. Notably, the Guidelines for parents and educators on Child Online Protection draw substantially on our recent 11-country comparative report, summarized in short form here.
These include these key findings, among many others:
The popularity of the mobile phone means that most children become internet users "mobile-first." As a 12-year-old Serbian girl put it:
The phone is somehow simpler. We can carry it anywhere, it's smaller and it's easier to work on it. I like it better in this way [using it] by fingers and not with the keyboard.
The internet affords children a world of fun: as we argue, fun activities such as watching videos or playing games may provide useful entry-level opportunities for the children and young people, which could help them to develop vital digital interests and skills.
Some children also report that the internet is important for their expression of identity and to find recognition from peers. A 15-year-old boy from the Philippines told us:
Online, I can show my true self.
The joy of creating: some of the online content that children find and value has been produced by other children. Typically, in the 11 countries surveyed, 10 to 30 per cent of children create and upload their own video or music each week, or write a blog, story or create web pages on a weekly basis. A young girl (9-11) in Ghana explained:
You can share music. You can also share pictures, ideas, games.
Children also display a considerable appetite for information – between one- and two-fifths carry out multiple forms of information searches online each week – to learn something new, to find out about work or study opportunities, to look for news, to source health information or to find events in their neighbourhood.
Becoming active citizens – here the potential remains unrealized for many children, as Global Kids Online findings suggest that relatively few children and young people are taking advantage of the civic engagement opportunities online. Perhaps they need to be convinced that the adults are really listening?
Of most concern to parents, educators and policy makers, the internet is also an environment in which children are exposed to risks, sometimes resulting in harm. Our report documents these in detail, and it is these that justify the Child Online Protection effort made by the ITU in creating its guidelines. However, risk does not inevitably lead to harm for all children, and it is important to target interventions particularly towards those who might be more vulnerable, while ensuring that all children are sufficiently protected in ways that do not unduly limit their online opportunities.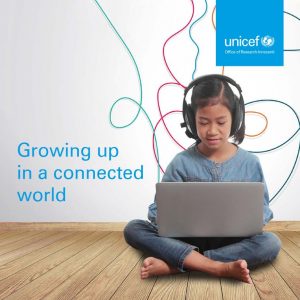 How can all of this evidence guide policy and practice? As children's lives increasingly become digital-by-default, at Global Kids Online, we have welcomed the many and diverse national approaches being taken to improving the digital world for children. The ITU's remit allows for a more prescriptive vision. Hence, the Guidelines for policy makers on Child Online Protection set out 11 cross-cutting principles, which taken together, will help in the development of a forward-looking and holistic national child online protection strategy (page 2). Hence it is argued that a national child online protection strategy should:
be based on a holistic vision that incorporates government, industry, and society;
result from an all-encompassing understanding and analysis of the overall digital environment yet be tailored to the country's circumstances and priorities;
respect and be consistent with the fundamental rights of children as enshrined in the UN Convention on the Rights of the Child and other key international conventions and laws;
respect and be consistent with existing, similar and related domestic laws and strategies in place such as child abuse laws or child safety strategies;
respect children's civil rights and freedoms, which should not be sacrificed to protection;
be developed with the active participation of all relevant stakeholders including children, addressing their needs and responsibilities and meeting the needs of minority and marginalised groups;
be designed to align with broader government plans for economic and social prosperity and maximise the contribution of ICTs to sustainable development and social inclusion;
utilise the most appropriate policy instruments available to realise its objective, considering the country's specific circumstances;
be set at the highest level of government, which will be responsible for assigning relevant roles and responsibilities and allocating sufficient human and financial resources;
help build a digital environment that children, parents/caregivers and stakeholders can trust;
guide efforts of stakeholders to empower and educate children on digital literacy to protect themselves online.
---
Resources
Online Dialogue Child Online Protection (COP) 2020 Guidelines Webinar
The full ITU guidelines and resources
Full Global Kids Online findings
UNICEF's work with children during COVID-19
You can sign up to receive the latest research news from Global Kids Online by email. Please forward this message to anyone you think may be interested.
Post author: Sonia Livingstone